Name: Tatiana
Age: 14
Height: 4' 10" (I'm tiny ><)
Location: Joliet, IL
Clothing style: What ever is in reach. It is said that I dress in the dark *gasp* Lace skirts, loose tops, usually a collar, thigh high/knee high socks that usally don't match. Platform shoes to make me taller -_-
Fave band(s): Oh dear... AFI,Aikaryu, An Cafe, Asian Kung-Fu Generation, AXS, Ayabie, Buck-Tick, Candy Spooky Theater, Chachamaru, D, Daigo Stardust, Daisuke Asakura, Deadman, Dir en grey, Dope HEADz, Ellegarden, Flame, Gackt, Garyoutensei, Girugamesh, hide, Hiroyuki Takami, Hyde, Iceman, Kana, Kenichi Ito, Kozi, KuRt, L'Arc~en~ciel, La:Sadies, Lolita23Q, Mad Soldiers, Malice Mizer, Merry, Merry Go Round, Michihiro Kuroda, Miyavi, Moi Dix Mois, Nightmare, Penicillin, Phantasmagoria Pierrot, Psycho le C'emu, Raphael, Run&Gun, SADS, Scanch, Scissor, Seimei no Tsumi, Shiina Ringo, Spiky, T.M.Revolution, TommyFebruary6, the pillows, The Seeker, V6, Vidoll, Wang Lee Hom, W-inds, X Japan, Yoshiki, Yuki Kimura
What are some of the things you like to do? Read, write fanfiction and poetry, draw, sing, hang out with my friends, listen to music, study Japanese and psychology
Favourite clothing brands? Stuff from hot topic that isn't corny or overly expensive (which is everything ><), Sex pot revenge, anything at Good will >.>
What would you say is your motto? Erm, "HOLY FUCK I WANT A PET CHICKEN RIGHT GODDAMN NOW!"
Write a small paragraph about anything else you'd like us to know: In school I have three reputations : 1) That girl who knows "chinese" (those fuckers its Japanese!) 2) The girl who always has high heels 3) The girl with big boobs (that one is so no true, either. Bastards)
Ah I'm sorry Kaitsu, to make a post it took me so long! I'm going to try and make people come to this community! And I'm in the mood for banner making. lol And uploading. XD
Any photos you want to show of yourself: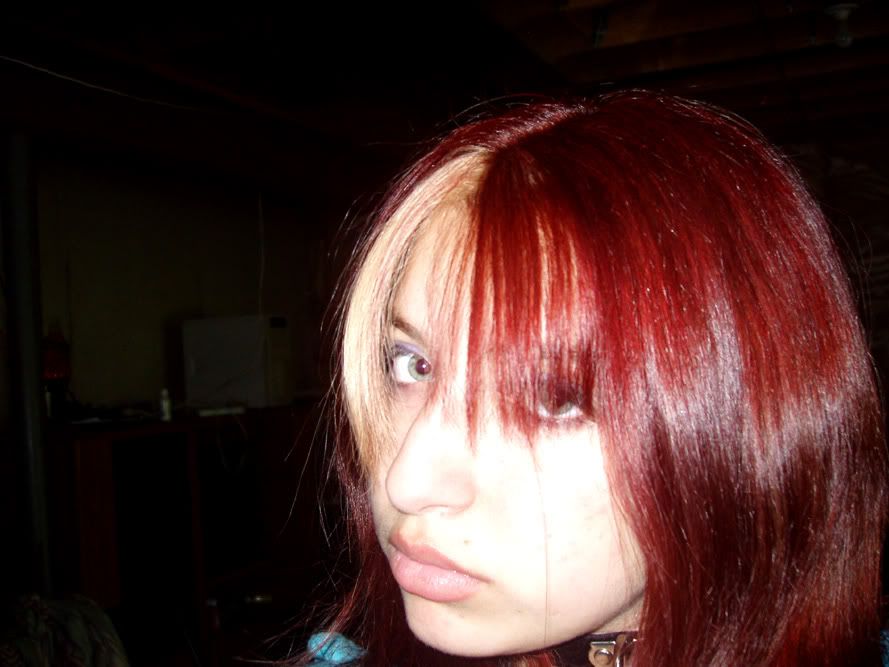 EEEE. Don't laugh.